George Henry Orvin, MD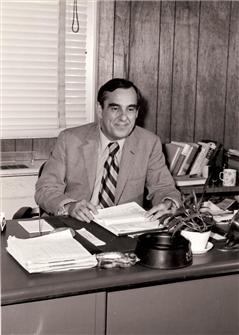 George Henry Orvin, M.D., 92, of Charleston, SC, husband of Rosalie Salvo Orvin, passed on Friday, August 29, 2014. Dr. Orvin was born August 6, 1922, son of Jessie Wright Orvin and Ruth Walton Orvin. He attended public schools in Charleston and was a 1943 graduate of The Citadel and a 1946 graduate of the Medical College of South Carolina. Dr. Orvin completed his residency in psychiatry at The Medical College and completed further training at the Institute of Psychiatry, Maudsley Hospital, University of London. He was board certified by the American Board of Psychiatry and Neurology in 1963. Dr. Orvin was appointed Professor of Psychiatry at the Medical University of South Carolina in 1977 and served as Chief of Adolescent Psychiatry until 1982 at which time he was appointed as Acting Chairman, Department of Psychiatry. Dr. Orvin retired from M.U.S.C. in 1989. He was awarded Professor Emeritus Status at M.U.S.C. in 1993. He was awarded Honorary Doctor of Medicine from the Citadel in 1996. He was Founder and served as the first President of the Brigadier Foundation from 1948-1953. He was a member of St. Philip's Church, the St. Andrew's Society, and a Fellow of the Royal Society of Medicine.
Dr. Orvin was the founder of New Hope Treatment Centers. He served as its Chairman and later Chairman Emeritus until his death. He was a Life Fellow of the American Psychiatric Association, the American Society of Adolescent Psychiatry and a Fellow of the Southern Psychiatric Association. He has received honors, awards and appointments to numerous mention and was internationally known for his ground breaking work in the field of Multiple Family Group Therapy with Adolescents and their families. He is recognized as the Father of Adolescent Multiple Family Group Therapy.
He is survived by his wife of 70 years, Rosalie S. Orvin; three children: Debra Ann Orvin, Nancy Lee Orvin Brumby (James) and Jay S. Orvin (Kathy) all of Mt. Pleasant, SC; sisters: Mariam O. House of Coral Springs, FL, Anne O. Yarborough of Charleston, SC, and Shirley O. Munn of Pamplico, SC; grandchildren: Elizabeth Orvin Tyler, Kimberly Orvin Barber, Jay Scott Orvin Jr., Amanda Lee Rogers, Philip Ryan Ward, W. Howard Buddin Jr., George Henry Budden, and John Theodore buddin; thirteen great grandchildren; and family members: Stewart Hatpin Knight (Michael) of Huston, TX, and Tomis W. Palmer of Mr. Pleasant, SC. He was predeceased by his daughter, Candace Orvin Palmer, and his brother John W. Orvin.
Memorials may be made to the Star Gospel Mission, 474 Meeting Street, Charleston, SC 29403
Recommended Reading: A Special Tribute by Libby Riddle
Two videos of George H. Orvin, MD, are on Youtube.