Alexander Powell Hyde, MD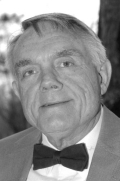 Dr. Alexander Powell Hyde, MD, 85, died on Tuesday, March 15, 2011. Dr. Hyde was born in Springfield, MA August 30, 1925, He grew up in Wellesley, MA and attended Wellesley High School. He was a graduate of Cornell University in NY with a degree in Engineering and one in Chemistry. Upon graduation he immediately enlisted in the US Navy where he was the chief engineer on the USS Katmai in the Pacific during World War II. Upon leaving the service, he resumed college receiving a Masters Degree in Psychology and a medical degree from Boston University. He specialized in Psychiatry where he was an instructor in Psychiatry at Harvard Medical School. He was in private practice for many years in the Boston, Cape Cod area. He is the author of "living with Schizophrenia" and many other published research papers. In 1984 he moved to Columbia, SC where he worked at the State Hospital and Bryan Hospital as Psychiatric Service Chief. His life was devoted to those suffering from major mental illness and was very active working for and with NAMI (The National Alliance for the Mentally Ill).
Upon retirement he continued to work part-time in Australia, Pennsylvania, Wyoming, Indiana and Massachusetts until the age of 80. He was a great lover of the Arctic and traveled extensively in Alaska, Greenland, Iceland and Canada. He was deeply committed to our environment and was an avid organic gardener. He read extensively and had a wonderful dry New England humor.
He is survived by his wife of 26 years, Suzan Garland; brother, Beal Hyde of Shelburne, VT and children, Wendy Hansen, Chris Hyde and Wesley Hyde. He will be missed by all those whose lives he touched.
A Celebration of Life service was held at 7:00p.m. Wednesday, March 23, 2011 at Caughman-Harman Funeral Home, Lexington Chapel in Columbia, SC. The family received friends after the service at the funeral home. In lieu of flowers, everyone was asked to donate to Humanitarian or Environmental Charity of their choice. www.caughmanharmanfuneralhome.net